Add:Haihong Technology Industrial Park,Liangzhu Town,Yuhang District,Hangzhou City,Zhejiang Province,China.
Business
Tel:+86-571-88772555 / 88773680
Fax:+86-571-88779363
URL:http://www.haihongchem.com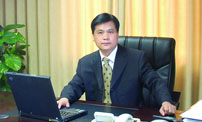 Founded in 1998,our company is the core subsidiary of Haihong Group. As a technology enterprise we dedicate to the research,manufacturing and marketing of rubber and plastic foaming agent and their additives. Owning independent import and export rights, we have passed the ISO9001 Quality Management System Certification in 2001. Our annual output of products reach 30000t. We have four large production bases. As the largest Asian modified foaming agent manufacturer and supplier, we have independently research and development team and complete equipments.Our research and testing laboratory is among the first-class in China. In 2004,our technical center is honored as Hangzhou Enterprise Technical Center and our company is honored as Zhejiang High-tech Enterprise.
Our continuous production of high-end products are exported to South Korea, Japan, Southeast Asia, Europe, US, Australia, Africa and other countries and regions. We are the supplier of OEM factories such as NIKE,ADIDAS,etc.
Our company has established and perfected logistics center and sales outlets in Guangzhou,Fujian,Wenzhou,East and North China,etc. We also have agencies in South Korea, Japan, Indonesia, the United States, Brazil, Pakistan,etc.We have set up 24-hour service system and experts service system.
Our company have four categories including foaming agent,rubber and plastic functional additives,flame retardants and XPE foaming functional materials. We also sell lubricant,UV absorber,light stabilizer,fluorescent whitening agent and other products used for the manufacturing of foam materials. We are committed to the precision synthesis of rubber and plastic additives products, ultra-fine, composite, coating masterbatch and green environmental. Among them the foaming ACP-W,HH808B,AC1500 and other products are honored as Provincial Excellent New Products. The technical indicators of the products reach the international advanced level.To ensure a healthy environment and more convenience for customers we'll provide stable and high-quality products.
We'll continue to be credit, innovative and provide good service to win the trust of our customers and long-term cooperation.